Grab a paddle and take a new look at the Big D.
Kayaking is surging in popularity in metro Detroit, thanks to cleaner water, municipal infrastructure improvements, kayak rentals, guided tours and affordable watercraft.
We've lived in the Detroit area for 21 years. When we started paddling, there was really no one else out on the river," said Tiffany VanDeHey, owner of Riverside Kayak Connection in Wyandotte. "People told us, 'You can't kayak on the Detroit River! It's an industrial river, not a recreational one.' That's just not true. Now we're seeing hundreds of paddlers on the river every weekend."
Tiffany and her husband, Patrick, saw the beauty – and potential – of the Detroit River and opened their retail store 12 years ago. But it is their kayak rentals and tours that have grown dramatically.
"We provide historical tours, natural tours, industrial tours and a bunch of other guided tours for kayakers," VanDeHey said. "Our most popular one is the Detroit Canal Tour, which takes you near the Fisher Mansion."
The VanDeHeys in 2015 expanded their business to Belle Isle Park, where their RKC Adventures offers tours and rental kayaks, canoes, bikes and paddleboards from the Flynn Memorial Pavilion on the southwest side of the island.
"The canals on Belle Isle are a great place to kayak. The water is a little bit easier to paddle, but you still can see the skyline of Detroit, the Ren Cen and freighters going up and down the Detroit River," VanDeHey said.
Water cleanup paying off
On any warm day, you'll see millennials, baby boomers and families plying Detroit-area rivers and lakes in their brightly colored kayaks.
But it wasn't always that way.
Rivers such as the Detroit and Rouge have a long history of industrial use and ensuing environmental fallout. Although still designated an "area of concern" by the U.S. Environmental Protection Agency, even environmentalists agree they've come a long way in the recent decades. Dramatic pollution prevention, cleanup and conservation have made the area one of the most impressive environmental recoveries in North America.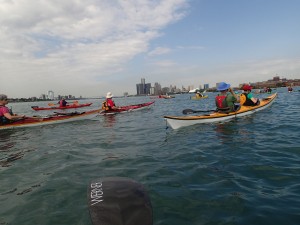 "The efforts to improve the Detroit River's water quality are a shining example of the types of wildlife conservation and management that will ensure the state's forests, waters and wildlife are protected and preserved for generations to come," said Henry Stancato of the Michigan Wildlife Council, which recently launched a public education campaign highlighting the importance of managing the state's natural resources.
Public and private agencies for decades have worked to clean and protect the region to foster the health and diversity of wildlife, fish and plant resources.
"All the hard work that's taken place and continues today allows a better quality of life for activities such as hunting, fishing, wildlife observation and environmental education," Stancato said.
Detroit's 'dynamic' water trail
Knowing the importance of preserving and embracing our water resources, Michigan legislators in 2014 approved the Michigan Water Trail Program, and a website was created to steer kayakers, canoeists and non-motorized boaters to launches along various waterways.
Similar to bicycle or snowmobile trails, they often include signage for access and portage points, as well as information on local heritage, businesses and attractions.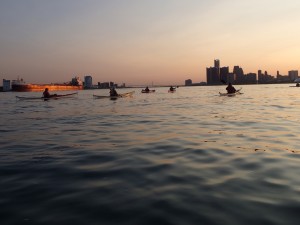 In Southeast Michigan, the Detroit Heritage River Water Trail is considered one of the state's most dynamic and diverse water trails, meandering past the urban areas of downtown Detroit and the serene areas of the Detroit River International Wildlife Refuge. The water trail is organized into four paddling segments:
Belle Isle/Detroit: This segment travels around historic Belle Isle, providing great views of the island (including the historic Detroit Yacht Club), the Detroit skyline and Canada. This seven-mile stretch also provides a great opportunity to observe freighters from the water.
Lower Detroit River: This portion begins in Wyandotte's Bishop Park (which features and adaptive kayak launch) and travels about 10 miles south to Lake Erie. The trail passes by many downriver features, including the Detroit River International Wildlife Refuge.
Rouge River: This segment begins in the city of Melvindale and travels about six miles up the Rouge River. Just beyond the scenic coastline lies one of the largest industrial complexes in Michigan, including the Ford Rouge Complex and Zug Island. Paddlers on the Rouge River are often surprised by the great blue herons and kingfishers that frequent the area.
Huron River: This trail begins in the city of Flatrock and travels about 10 miles to Lake Erie. Quite scenic, it meanders through several small bedroom communities.
An urban refuge
The Detroit River International Wildlife Refuge is just 20 miles south of Detroit along the lower Detroit River and western shoreline of Lake Erie. North America's only international wildlife refuge, its nearly 6,000 acres include 20 scattered "units" of islands, coastal wetlands, marshes, shoals and waterfront lands.
The refuge is actively managed to support an abundance of wildlife, said manager John Hartig.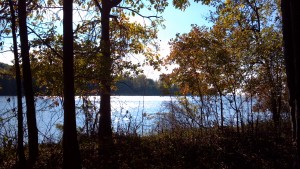 Significant conservation efforts along the river in the past 15 years include:
More than 40 "soft" shoreline engineering projects making shorelines more wildlife-friendly
Cleaning up a brownfield and restoring habitats for the Refuge Gateway in Trenton
Reconnecting Belle Isle's Blue Heron Lagoon with the Detroit River and restoring its natural habitat
Building sturgeon spawning reefs off Fighting Island, Grassy Island and Belle Isle
"This showcases how an urban refuge can work hand-in-hand and be there for wildlife as well as for the people who live in the area," said Joann Van Aken, executive director of the International Wildlife Refuge Alliance.
Give it a try
"Getting out and paddling on a river or stream provides unique solitude that allows you to connect with Mother Nature," Stancato said. "You get to slow down, you get to disconnect from your everyday life, and you get to experience something that's really natural and that connects us to our heritage."
"For many Detroit-area residents, paddling could become a new tradition. People who have lived in Detroit their whole lives have no idea that these experiences exist right here," VanDeHey said. "Give paddling a try… you'll love it."