Not exactly the woodsy type? Well, how about test-driving Michigan's great outdoors along one of its many scenic trails?
Whether you like to walk, run, bike or ride, the Great Lakes State has a rail trail, bikeway, riverwalk or trailway for you. And fall is the perfect time to get out and discover your favorite trail.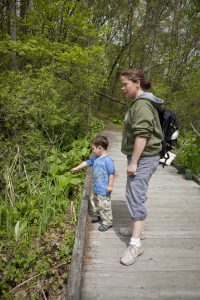 "Michigan is the No. 1 trails state in the nation," said Paul Yauk, Department of Natural Resources state trail coordinator. "We're pretty blessed here in Michigan not only with a great infrastructure of trails, but also four beautiful seasons for people to enjoy them."
To celebrate its extensive trail network, the state has designated Sept. 17–24 as Michigan Trails Week and is encouraging residents and visitors to get out and start a new adventure.
The high point of Michigan Trails Week is Sept. 24's National Public Lands Day, the nation's largest single-day volunteer event for public lands.
"Help preserve Michigan's public lands by volunteering your time, making a financial contribution or simply telling others about Michigan's woods and waters," Yauk said.
Carol Rose of the Michigan Wildlife Council, a statewide public body that promotes the importance of conservation and wildlife management, said a growing network of state and local trails enhances the quality of life for folks across the state.
"There's so much to see and do once you start exploring. Each trail has its own natural wonders – we just have to get outside and go for it," Rose said.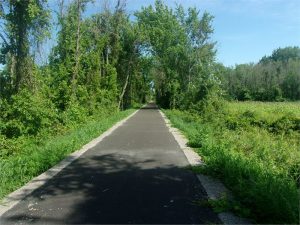 Iron Belle spans the state
The Iron Belle Trail is the newest addition to Michigan's thousands of miles of recreational trails. Two routes make up the Iron Belle Trail: one for hikers (1,273 miles) and one for bicyclists (791 miles). Both routes stretch from Belle Isle Park in Detroit to Ironwood in the Upper Peninsula.
The routes largely utilize existing trails across the state. Today, both routes are more than 60 percent completed.
"You can't talk about Michigan trails without talking about the Iron Belle. This is already an amazing trail and is getting better every day thanks to the cooperation of federal, state and local agencies," Yauk said.
Here are a few Yauk suggests in West Michigan:
William Field Memorial Hart-Montague Trail – 22 miles – Hart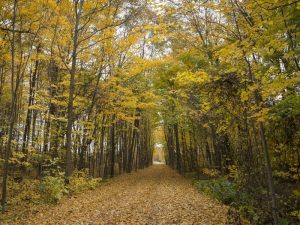 The recently reconstructed William Field Memorial Hart-Montague Trail State Park travels through rural, forested lands from Hart to Montague.  A number of scenic overlooks and picnic areas are located along the route.
"This is a great, great trail that goes through the 'fruit belt' area of West Michigan," Yauk said.
Fred Meijer White Pine Trail – 92 miles – Grand Rapids
Stretching from Comstock Park near Grand Rapids, the Fred Meijer White Pine Trail travels through 31 communities on its way north to Cadillac. Each portion of the trail has unique features: forests, villages and quiet corridors.
"The entire trail is fantastic. But the portion of the White Pine that runs from Fifth Third Park in Comstock Park to Rockford is my favorite little stretch. It makes for a nice day trip for residents and visitors," Yauk said.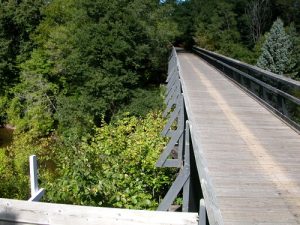 Musketawa Trail – 26 miles – Muskegon
This paved, four-season trail runs between Marne and Muskegon. Whether you're interested in horseback riding, biking or walking in warmer weather or cross-country skiing and snowmobiling in the colder months, the Musketawa Trail has something for everyone.
"I would certainly explore as many trails as possible in West Michigan. They're all really nice experiences and close to home," Yauk said.
Kent County Trails – 90 miles – Kent County
Kent County Parks manages a wide range of trails perfect for walking, hiking, mountain biking, horseback riding and more.
"Kent County's trails are really beautiful in the fall," Yauk said.