It's the only spot in Grand Rapids where you can admire art and watch migrating fish at the same time.
Fish Ladder Park features a sculpture designed to allow spawning fish to bypass the imposing Sixth Street Dam on the Grand River.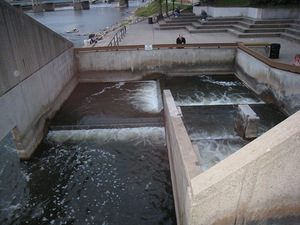 "This beautiful sculpture is truly a unique way to allow species such as steelhead and salmon to migrate to their spawning grounds from Lake Michigan," said Randy Stec of the Michigan Wildlife Council. "Right in the heart of the city, it's a great way for people of all ages to see this natural phenomenon up close and personal."
Built along the west bank of the Grand River in 1974 by local artist Joseph Kinnebrew, the Fish Ladder features a series of pools artfully arranged like steps that allow fish to "climb" over the adjacent Sixth Street Dam by swimming into the ladder and jumping the steps until they reach the water level above the dam.
"Fish Ladder Park has become an important piece for us from a parks perspective as we work to integrate more art into our public park spaces," said David Marquardt, Parks & Recreation director for the city of Grand Rapids.
"It's difficult for everyone to be able to go to an art museum because it costs money. But to walk into a public park at no cost and learn about different aspects of art for free ... that's huge."
Marquardt is collaborating with the Grand Rapids Art Museum and ArtPrize organizers to bring more artwork into the parks. ArtPrize already utilizes Fish Ladder Park as one of its 200 venues throughout Grand Rapids each fall for the world's largest art competition.
ArtPrize organizers describe it as "an ideal location for creative installations that can capitalize on the area's topography; an area sloping towards the Grand River."
Teaching Tool
Marquardt also sees Fish Ladder Park as an environmental teaching tool. Tourists and residents alike crowd the park in the spring and late summer to watch fish "climb the ladder" on their upriver trek from Lake Michigan to spawn.
"The city is working with Grand Rapids Public Schools and other nonprofit partners to find better ways to deliver greater environmental education opportunities," he said.
In her first State of the City speech, newly elected Grand Rapids Mayor Rosalynn Bliss in February outlined her goals.
"One of those goals is for Grand Rapids to be a leader in environmental education," Marquardt said.
Spawning is key
The 260-mile Grand River is Michigan's longest river and an important piece of the Grand River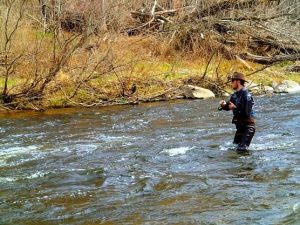 Watershed. Fish such as salmon, steelhead and trout spawn in coldwater creeks upstream.
"They like to lay their eggs in gravel beds on the bottom of cold streams; the rocks help them protect their eggs. They like oxygen in the water, and fast-moving water produces lots of oxygen," said Nichol De Mol, project manager for Trout Unlimited's Rogue River Home Rivers Initiative. The Rogue River is a major coldwater tributary upstream from the Grand River.
Trout Unlimited is a national, nonprofit organization with more than 150,000 members who share a love of fishing and a desire to conserve, protect and restore the nation's coldwater fisheries. Founded in 1959 in Grayling, Mich., Trout Unlimited's staff and members are dedicated fishers who put their time and considerable resources into protecting headwater-spawning habitat for trout and salmon.
In Grand Rapids, the Schrems West Michigan Trout Unlimited chapter was founded in 1962 because of concerns for the health of local streams and the wild trout that live there. Today its members continuously work on river cleanup, stream monitoring, bank erosion and reconstruction, and fishing education.
"The Schrems West Michigan chapter in the last year put in about 2,000 volunteer hours and raised about $800,000 in the last few years," De Mol said. "A lot of that time was spent doing inventory of the coldwater creeks in the area to see how we might improve spawning habitats.
"High-quality, coldwater trout systems are extremely important for protection of the Grand River."
Dam it or not?
Many communities across Michigan – including Grand Rapids – are considering removing obsolete dams in hopes of restoring natural conditions and improving fisheries.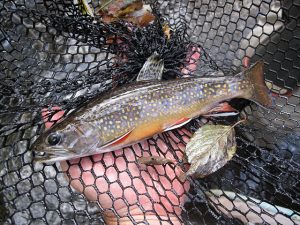 Grand Rapids Whitewater proposes to remove all or part of the Sixth Street Dam to restore a 2.2-mile stretch of the Grand River through downtown. Proponents say restoring the river's naturally occurring rapids will open the door to kayaking, fishing, rafting, stand-up paddling and other forms of riverfront recreation. A 2014 study estimates the changes would bring up to $19 million in annual economic activity.
"There are no rapids in Grand Rapids right now. But the city is working with public and private groups to help restore the rapids in the Grand River," Marquardt said.
"We have some amazing environmental spaces in our city like Fish Ladder Park. We're also very lucky to have a plethora of public and private partners that are coming together to make some great changes for our community."