John Ciambelli had always planned to teach his daughter, Rey, how to fish, just like his dad did with him during family vacations decades ago.
But then the COVID-19 pandemic arrived, which had the effect of speeding up the tutelage — and also helping forge some intergenerational family ties.
"She's using my dad's fishing lures to catch these fish, which makes me happy," said John, who inherited a stockpile of fishing gear after his father, Anthony, died last year. "And she's like, 'That's Grandpa's lure.' She was almost 3 when he passed away, and she remembers him. I want her to remember all the fun things he did. My goal is to keep his memory alive."
John and Rey's weekly fishing expeditions on a private lake near Durand are also providing joy and entertainment while the family — which also includes wife and mother Brook — is isolating in its second home during the coronavirus crisis.
"My wife has an autoimmune disease, and she cannot be around anyone right now," Ciambelli explained.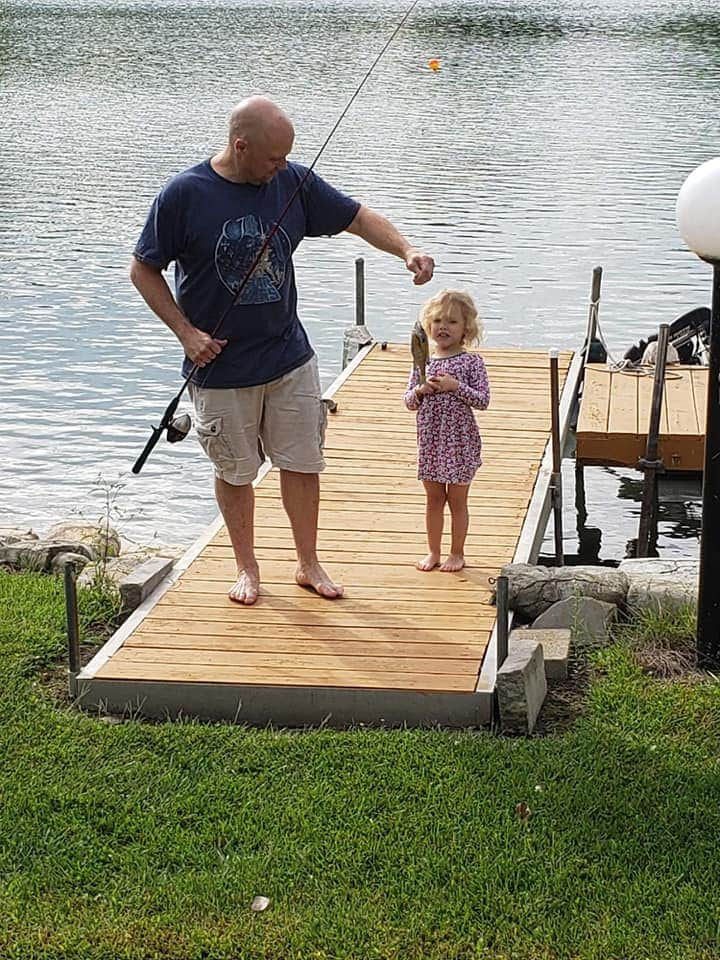 License sales soar
The Ciambellis aren't the only Michiganders who are turning to fishing to fill time and safely get outdoors during the pandemic.
Through June, the Michigan Department of Natural Resources had sold more than 882,000 fishing licenses, a nearly 11% increase from the first half of 2019.
The numbers confirm what Jeremiah Blaauw, the DNR's Marquette-based fish health, stocking and marking biologist, had observed anecdotally.
"It seems like I've seen more people out and about, especially families, which is kind of nice," Blaauw said. "The numbers show it – it's a fun activity that people can get into pretty simply. And we're lucky enough in Michigan to be able to basically turn around and find some water and hopefully catch some fish."
Blaauw also noted that it's easy for families or individuals to socially distance while fishing in a boat, wading in a stream or standing on shore, on a pier or on a dock.
But it's the introduction of kids like Rey to the pastime that gives him the most satisfaction.
"That's what I live for, to see smiles on their faces," Blaauw said. "I like to fish like nobody's business, but to see someone catch their first fish or the biggest fish of that day is hopefully something to build upon for the rest of their life."
Creating conservation funding
Indeed, the increase in fishing license sales will help ensure that fishing opportunities remain for current and future generations, noted Nick Buggia, chair of the Michigan Wildlife Council, which was created by the state to highlight the importance of conservation and wildlife management — including hunting and fishing — to Michigan's outdoor heritage.
"It's purchases of licenses by people who hunt and fish, not state taxes, that fund conservation projects throughout the state," Buggia said. "So when you have more people fishing like we do now, you're also generating more money to help make that activity even more enjoyable and sustainable. It's like a perfect circle."
The Ciambelli family's fishing experiences could also be considered a perfect circle.
John Ciambelli, 46, remembers the last time he had a chance to fish with his dad. It was in 2009, after he had worked virtually every day for two years while apprenticing to become an electrician.
"We really didn't catch anything that day except for memories, but it was the first time I could relax in nearly two years," he said.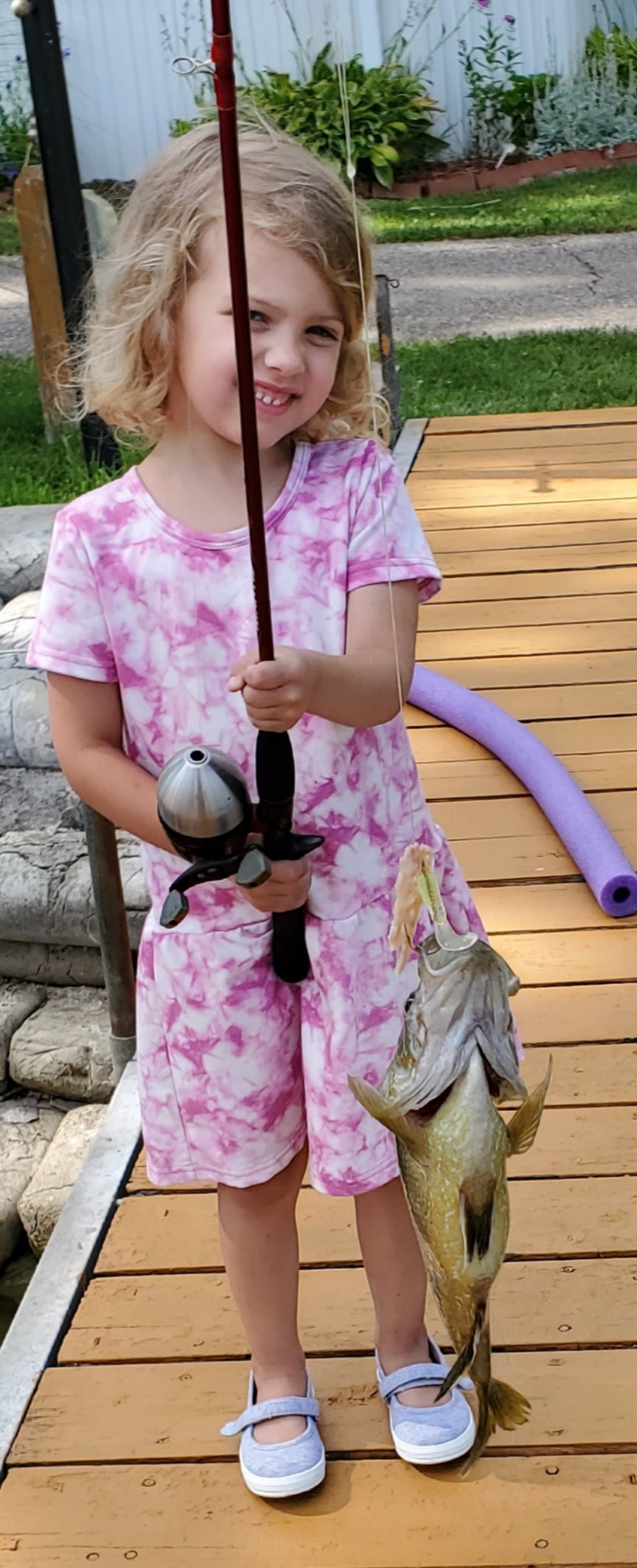 Today, his outings with Rey are a way to relieve the stress of living through a pandemic.
After coronavirus cases started to rise this spring, Ciambelli took leave from his job as an electrician at the Detroit Waterwaste Treatment Plant and temporarily relocated with Brook and Rey from their Ferndale residence to the more isolated lakeside vacation home they bought last year.
"I was around too many people," he said. "If I catch it, then I'm going to bring it home and Brook is going to catch it, and it would be very bad. I'll go back to work when things calm down, but it's too big of a chance. We're not going to risk it."
The lake house came equipped with a pontoon boat, which John and Rey have hopped on at least once a week to head out fishing, in addition to occasionally casting their lines from their dock.
"I was planning to introduce her to fishing at one point or other, but not so much and so soon," he said, adding that normally he would work six days a week and have few opportunities to take his daughter to the water. "We are using this time to be with each other and make memories."
The Ciambellis practice catch-and-release fishing. While waiting for a nibble, Rey will entertain herself by looking for turtles and birds and "asking fun questions like 4-year-olds do," her father said.
She hauls in about one fish per outing.
"The other day she caught a large bluegill, probably 8 inches," Ciambelli recalled. "She loved it. I had to take it off the hook for her, of course, but then she wanted to touch it. So she touches it, and she says, 'OK, put it back in the water.' And then we'll always say, 'I'll catch you again later.'"
More information on fun outdoor activities in Michigan, and the role hunting and fishing play in helping make them possible, is available at HereForMiOutdoors.org, the website of the Michigan Wildlife Council.
---
Fishing financial facts
The rise in fishing license sales this year doesn't just mean more Michiganders are having good, clean fun on the water. It is also creating more funding for conservation projects statewide, and injecting money into Michigan's economy.
In 2019, sales of hunting and fishing licenses contributed $61 million toward conservation efforts in every corner of the state. Remember: The primary funding for conservation and wildlife management work in Michigan is generated by hunting and fishing license sales – not state taxes.
Federal funding generated from sales of hunting and fishing gear is another source of conservation revenue. Michigan's share of hunting gear-related purchases totaled $20.2 million in 2019, while the haul from fishing equipment purchases was $11.4 million.
On top of that, hunting and fishing activity generates more than $11.2 billion annually for the state's economy, according to Michigan United Conservation Clubs research.