Spike in hunting and fishing license sales a big boost for Michigan's economy, future conservation efforts
Michigan has seen a 95% increase in new hunters since March – the biggest jump in at least 20 years and a COVID-era trend that likely means tens of thousands more hunters will head to the woods when firearm deer season opens Nov. 15.
The sharp increase in hunting license sales is part of a national trend, spurred by the pandemic, that's brought an influx of people – especially women and youth – outdoors looking for socially distanced recreation.
"We have seen a record increase in license sales that we haven't seen in 20 years," said Shannon Lott, deputy director of the Michigan Department of Natural Resources. "This is definitely the year that everyone wants to get outside."
The DNR reports 440,780 people purchased a hunting license through Oct. 12 – with 64,133 of those first-time hunters. That's 31,000 more new customers than at that point last year.
Young people ages 10-16 saw a 144% increase in license sales across all hunting species, jumping to 22,624 licensed hunters from 9,284 last year. In addition, the number of female hunters has increased nearly 25% – from 35,619 to 44,425.
This spike in hunting interest is expected to continue into firearm deer season, Nov. 15-30, which annually attracts the state's largest hunter participation. More than 475,000 firearm deer hunting licenses were purchased last year.
The increase in hunters is good news for many reasons, the DNR said.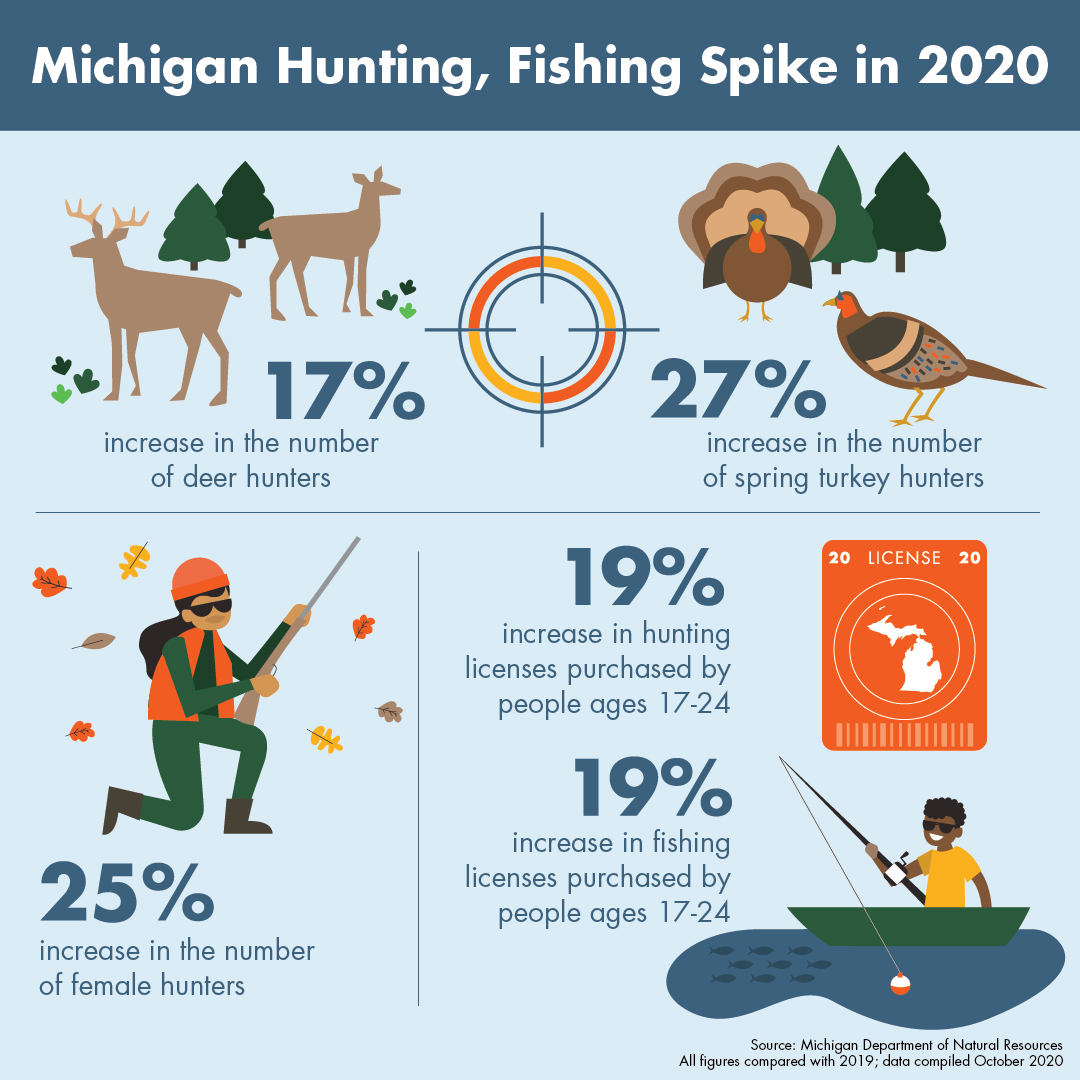 The DNR relies on hunters to manage and cull the state's deer population. But hunting license sales in Michigan and nationally have declined in recent decades as aging baby boomers cut back on hunting and young families with less free time than previous generations are not pursuing the sport.
"Additional hunters would be a much-welcomed change to better assist with management of our herd," said Chad Stewart, DNR deer specialist.
Hunting wasn't the only new outdoor sports Michiganders tried this year. Camping, visiting parks, hiking trails, bird-watching and kayaking were also hugely popular this summer.
Michiganders also bought 9% more fishing licenses this year – 1.2 million compared with 1 million in 2019. The total number of new anglers this year skyrocketed 42%, said Dustin Isenhoff, DNR marketing specialist.
If that interest continues in the coming years, more hunters and anglers will mean more money for Michigan's conservation efforts and economy. That's because the DNR's conservation funding relies on license fees and a federal excise tax on hunting and fishing equipment.
License sales generate about $61 million annually for wildlife and natural resources conservation projects in Michigan. Another $32 million comes from the federal levy on hunting and fishing equipment sales. By law, that money is entirely dedicated to wildlife management and conservation activities.
Additionally, a recent study by the Michigan United Conservation Clubs showed that hunting and fishing support nearly 171,000 jobs annually and add $11.2 billion to the Michigan economy, with the greatest impact in Southeast Michigan.
The DNR and sporting groups are excited by Michigan's new interest in hunting and fishing and are considering ways to encourage participation in the years to come, Isenhoff said.
"This is great news for Michigan since hunting participation here and nationally had been declining in recent years," said Nick Buggia, chair of the Michigan Wildlife Council. "The more people who enjoy Michigan's great outdoors, the better it is for our entire state."