Heather Hettinger readily admits she has one of Michigan's best jobs.
On any given spring, summer or fall day, she can be found chasing steelhead in the Betsie River, stocking baby walleye near Beaver Island, calling turkeys or waiting for deer in a tree on state lands, or trolling for trout and salmon out of Frankfort. During the winter, she works in a Traverse City field office analyzing data that will impact Michigan's $2.4 billion fishing industry.
"Sometimes you have to just pinch yourself and ask: 'How does it get any better than this?'" said Hettinger, a Kent County native who lives in Benzie County on the Platte River with her husband, Chris, and stepchildren, Crystal, 19, and John, 16.
"Geographically, I'm working in some of the most beautiful settings on earth and doing fun stuff on some of the most beautiful bodies of water," she added. "And I can still be a geeky fish nerd. I'm super-passionate about what I do."
Hettinger is one of only three female Fisheries Management Biologists working for the Michigan Department of Natural Resources Fisheries Division. She teams with fisheries technicians who observe, monitor, study, survey, regulate and manage fish species and their habitats to protect and preserve Michigan's world-class fisheries.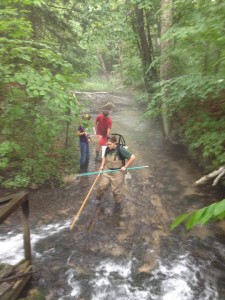 In her role with the DNR's Central Lake Michigan Management Unit, Hettinger's "workspace" encompasses all of the waters comprising the watersheds that drain into the central portion of Lake Michigan. She covers a nine-county region and travels regularly across West Michigan and the northwestern Lower Peninsula to speak to fisheries' constituents who range from sportsmen, scientists and environmentalists to students and advocates of the tourism, retail and hospitality industries, among others.
Hettinger is excited to help support a new education campaign by the Michigan Wildlife Council launching in 2016 to promote awareness of the importance of wildlife conservation in Michigan.
"Many Michigan's residents are unaware of the importance of wildlife conservation and how it impacts them," Hettinger said.
"The more they know how it benefits activities they love – such as camping, hiking or bird-watching – they will better appreciate that wildlife management is essential to preserving Michigan's great outdoor heritage for future generations."
Her own embrace of Michigan's natural splendors began as a child growing up in the bucolic Grand Rapids suburb of Kent City, where she was raised by a family of outdoor recreation enthusiasts who inspired her to pursue a career path typically held by men.
Her autoworker father, Morrie Seites, and homemaker mother, the former Karen Wilder, were both avid anglers and hunters. Her aunt Sue Wilder routinely sailed a small boat on Wolf Lake. Eleanor Wilder, her grandmother, often hiked around Kent City's surrounding woods.
"In my family, we were always doing stuff together outdoors every weekend, whether it was fishing for bluegill on a pontoon boat or setting up a deer blind near our cabin in Baldwin," Hettinger recalled.
"By the time I was 5 years old I was baiting my own hook to go bass fishing. I would play in a mud puddle for hours, and I never heard from anybody who said that's not what girls are supposed to do."
A family vacation when Hettinger was 12 years old to Sault Ste. Marie that included a tour of an aquatic research laboratory "is what sealed the deal for me," she said. "I knew by the time I was in the sixth grade that I wanted to become a fisheries biologist."
She began working for the DNR in 2000 and became the state's Traverse City fisheries biologist in 2009. Hettinger, who has a bachelor's degree in fisheries & wildlife management from Lake Superior State University and a master's degree in biology with a concentration in fisheries management from the University of Nebraska-Kearney, welcomes the challenge of combining science with public opinion to develop sound fisheries' policies.
"My dad always said if you can find something that turns your hobby into a career where you can make at least decent money, you should do what makes you happy," said Hettinger, whose father died in 2012.
"I know my dad is smiling because I think I'm the luckiest biologist in the state."
To learn how wildlife conservation protects and preserves Michigan's great outdoors, visit http://HereForMiOutdoors.org.
---
Hettinger: Grand Rapids has at least 3 "must see" outdoor recreation meccas within an hour drive
The Michigan Wildlife Council asked state fisheries expert and Kent County native Heather Hettinger to offer her top three outdoor recreation venues within an hour of Grand Rapids. In no particular order, she touts:
Howard Christiansen Nature Center – "I grew up taking school field trips here, and spent many afternoons walking the trail system with my mom. They also have a great interpretive center, and very knowledgeable volunteers."
Muskegon State Park – "This is a fun park that has great trails that overlook Lake Michigan, the historic Block House for history buffs, and a whole variety of winter activities in conjunction with the Winter Sports Complex. Great spot to take a picnic, hike up to the Block House and watch the sunset!"
White Pine Trail – "Multiple spots to get on the trail at, great views and just a nice place to ride a bike, walk with a friend, or in the wintertime it's a nice surface to cross-country ski on."